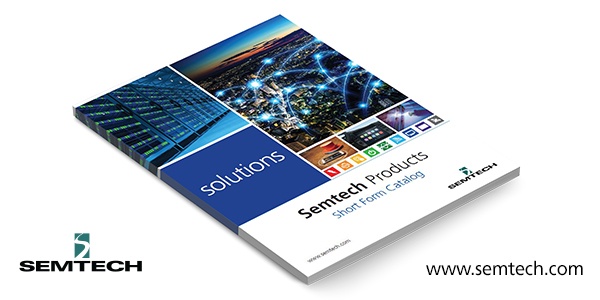 Today's consumers and enterprises demand the smartest, most-efficient, highest-performance electronics to enable efficiencies and strategic advantages within some of the fastest growing markets. Semtech's wide range of innovative analog and mixed-signal semiconductors and advanced algorithms provide just that. 
In this blog, we'll feature a sampling of Semtech's cutting-edge platforms that deliver the more intelligent, more robust and more compact designs empowering next-generation electronics.
Semtech offers a wide range of product platforms with variations to fit your unique design challenges. For a catalog of Semtech's premier solutions, download our latest Short Form Product Catalog.
View all Semtech collateral by market application within our Design Resources.
Semtech, the Semtech logo, LoRa, LoRaWAN, RClamp, LinkCharge and ClearEdge are registered trademarks or service marks, and Neo-Iso is a trademark or service mark, of Semtech Corporation or its affiliates.